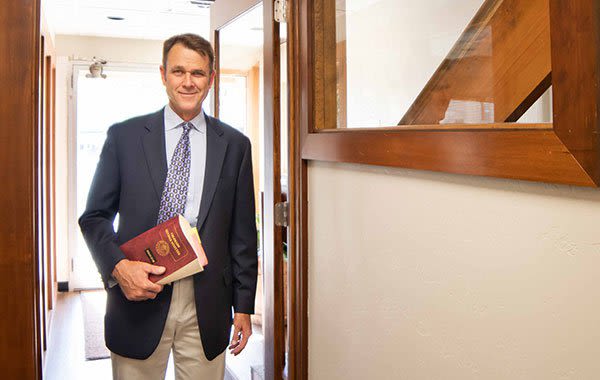 Attorney John C. Seibert has been practicing law in Colorado since 1992. He earned his Juris Doctor from the University of Colorado in 1991, and he's been a long-standing member of the Southwestern Colorado Bar Association. He brings an aggressive, strategic, and competitive spirit to every case he takes on, fearlessly standing by his clients in negotiations and in trial.
A former professional cyclist, Mr. Seibert enjoys all kinds of outdoor activities — particularly skiing, hiking, and cycling. Just as he brought a competitive edge to cycling, Mr. Seibert enjoys competing and winning legal cases on behalf of his clients. He's thorough and experienced, bringing a logical perspective to businesses and individuals facing legal issues.
Mr. Seibert's interest in law originally sparked from his time as a geologist in the oil and gas industry. After the industry slumped in the 80's, he began to question where to go from there. Opportunities for geologists in the field were limited, but he knew that working as an attorney would give him the opportunity to be involved with the industry from a different angle. Since then, his practice areas have expanded to help individuals, small businesses, and corporations through a variety of legal issues.
My greatest passion is helping people overcome difficult obstacles.
As the principal attorney at The Law Office of John C. Seibert, LLC, Mr. Seibert has represented clients in real estate, personal injury, business law, and civil law cases all around the Durango, Colorado area. His business law practice includes matters involving business formation and disputes, commercial real estate, construction law, and oil and gas law. Meanwhile, his civil law practice focuses on handling HOA disputes, personal injuries, and residential real estate transactions.
On the business side, Mr. Seibert has seen it all. He's worked with young entrepreneurs in the early stages of their business, oil and gas companies facing various issues, and corporations navigating the intricacies of construction law. Conversely, individuals turn to Mr. Seibert after they've been injured, when they plan to buy or sell real estate, or when they're tired of fighting with their homeowners association.
Whether you're an individual or business in need of an attorney, you want Mr. Seibert by your side. Between his long track record, history of aggressively fighting for his clients, and passion to help you reach the optimal conclusion of your case, he's the man you can trust with the details of your case. Reach out to his firm today to start your case on the right track.
BAR ADMISSIONS
Colorado Bar Association (1992)
EDUCATION
University of Colorado, J.D. (1991)
PROFESSIONAL ASSOCIATIONS & MEMBERSHIPS
Southwestern Colorado Bar Association